White patio and backyard upgrades are something most homeowners talk about and pay utmost attention to, one area of the house that remains untouched and empty is the terrace. This is especially true when you live in a double-story house, a condo, or an apartment. A significant mistake many homeowners make during the design process of their houses is ignoring their terrace area's ambiance, design, and decor.
If you take a closer look at this small space, you'll see how you can make the best use of it for various purposes if you spruce it up correctly. While reliable interior design remodeling services can help in this process, you can start by trying out these terrace lighting ideas to turn your terrace into a magical spot inside your house.
String Lights for a Festive Atmosphere
Seasonal decorations never go out of style. Whether it's Christmas, Halloween, Thanksgiving, or Independence Day, homeowners always tend to feel excited about decorating their houses in new ways to get into the season's spirit. You can always go a step further with your seasonal decorations by creating a festive atmosphere on your terrace too.
String lights come in various shapes, colors, and luminosity types. As a result, it's incredibly easy to find them in the designs and colors that go perfectly with respective festivals. Furthermore, creating a festive atmosphere on your terrace is an incredible idea if you frequently host parties, dinners, and barbeques for friends and family members.
This lighting idea will instantly create the holiday spirit throughout the house, making every party a success. Remember to ensure that all the lights are connected and well-organized so that there aren't any loose ends disrupting your terrace decor and overall aesthetic appeal. Furthermore, ensure that the lights you've chosen go wonderfully with the views from your terrace.
Staircase Lights for Magical Pathways
Many houses with innovative structures feature terraces with stairs and pathways. These are very common among luxury houses with state-of-the-art features and architectural designs. While stairs allow you to head to your house's terrace, you can always use them to create some of the most breathtaking pathways around and inside your house.
This is also an excellent opportunity to highlight your terrace, especially when it has a hydroponic or aeroponic garden. Staircase lighting comes in many colors and intensities. You can choose to wrap them around the stairs' railings or attach them to the walls adjacent to the stairs.
This will instantly give you a magical pathway to your terrace without significant effort. Homeowners looking to organize unique home viewings for potential buyers can benefit from this feature by piquing people's interest in the house's terrace or balcony.
Wall Lights for Maximum Illumination
A dark terrace at night is never an attractive feature for a house's design, especially if the rest of the house is nicely lit and illuminated. Strategic incorporation of wall lights is an excellent way to create the perfect balance of lighting inside the house and on the terrace. Wall lights have the power to instantly brighten up any space without adding multiple lights.
These can be easily attached to a terrace's main wall or ceilings, allowing you to highlight its seating arrangements, plants, flowers, vegetation, and more. However, when using wall lights, remember to turn them off when not in use. This can easily turn your lighting into an energy-saving feature of your house.
LED Vases for a Romantic Ambiance
If you're all about small yet romantic gestures through intimate at-home dates, we have a great idea in store for you. You can now flatter your partner with the most heartwarming date on your house's terrace with LED vases. These colorful vases create shadows of multiple colors that aren't extremely blinding or bright. In fact, if you and your partner are fond of candlelight dinners, you can always change things up a little bit and replace the candles with LED vases for the coziest terrace date with stunning views of your city.
Warm-Toned Lights for Nighttime Events
Lastly, if you have a bigger terrace where you can host events and parties, it's always a good idea to go for warm-toned lights for maximum brightness and a happier atmosphere. This will give your guests the ultimate selfie lighting to celebrate special moments and make every event count.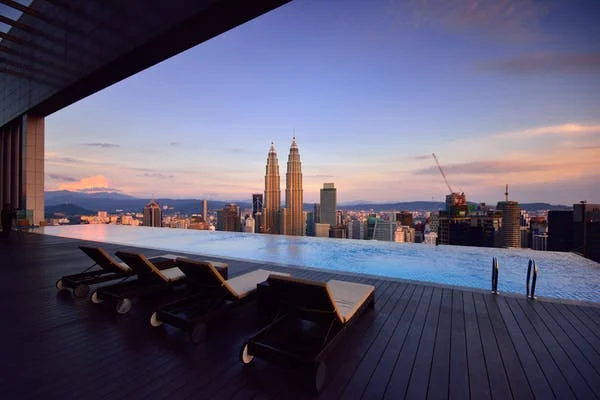 A house's terrace or balcony is an exceptional outdoor space that you can revamp for the most creative and attractive look for the rest of your house. Whether you're all about enjoying the city's serene views from your terrace or are looking forward to hosting an intimate get-together with loved ones on the balcony, you can never go wrong with one of the terrace lighting ideas highlighted above.
However, if you want to elevate your terrace's look further, you can always rely on qualified professionals with substantial experience in interior design remodeling services. If you're looking for professional interior designers in Beverly Hills, feel free to connect with our experts at MLL Custom.
Thanks to our knowledge of different home designs and ability to focus precisely on a house's details, we're proud to give you the dream home design that you're looking for. Our interior design remodeling services in Beverly Hills revolve around what you perceive as the most desirable aesthetic for your house. You can always count on our custom cabinet designers, bathroom vanity designers, and manufacturers of L-shaped and U-shaped sofas to achieve the most breathtaking, cost-efficient, and functional home design, regardless of how complex the job is. Check out our services here or contact us to learn more today!