One feature of a house that's just as aesthetically appealing as it's functional is the closet. Apart from serving as the ultimate storage space for clothing and accessories, closets now give a home design the depth and modernity it needs to stand out, especially if you're looking for someone to invest in the property.
Therefore, when building and designing unique at-home closets, it's essential to work with custom closet designers with a creative eye for details, shapes, and colors.
Here are some of the most attractive closet design ideas approved by leading interior designers to help you choose the right one.
Custom Rotating Systems for Smaller Closet Spaces
Homeowners often avoid having a separate closet space when they're already running out of walking space in a room. However, this can easily be dealt with through new and unique space-saving techniques. A smaller bedroom can accommodate a compact closet if you design it correctly.
One design that every homeowner will love for its functionality and space-saving abilities is that of a custom rotating closet. Unlike a flat cupboard or a walk-in room, this closet can be built with materials like iron and wood in a cylindrical shape. You can then design it so that it rotates to help you pick the items you're looking for. Such closets can be made in a portable form so that you can place them in any corner without them taking up significant space in a small room.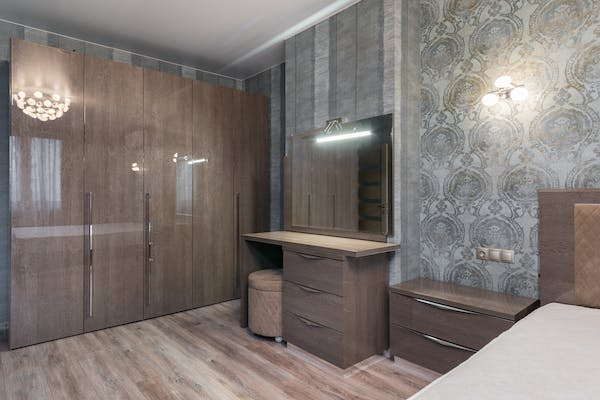 A Walk-In Closet with a Mini Vanity
If having a smaller house or room isn't one of your concerns, you can always be as creative as possible when designing your dream closet. Some people aren't fond of picking out clothes in one space and getting dressed in another. You can now turn your new closet into a multifunctional spot by adding a mini vanity inside it.
This vanity can include a small mirror with LED lighting, a dressing table with sufficient storage, and a small chair to give you the best time when getting dressed for an event. Making a small vanity right across the storage space of a closet gives the latter an even more appealing and luminous look, making your wardrobe unforgettable.
Closet With a Pop of Pastel Colors
If your house is all about neutral colors, clean surfaces, and minimalism, your closet space is the perfect place to bring your home design to life with a pop of color. From your closet's walls to its doors, hanging rods, and even the ceilings, you can choose to work with subtle pastel colors that resonate with your choice and apply them to highlight the most interesting areas.
Colorful closet space is never a bad idea when you're looking to create a design that matches your fashion choices. For instance, if you're all about vintage dresses, skirts, and flat pants, choosing a color in accordance with these choices will give your closet the most effortless finish with its fine details and texture. The key is knowing where to incorporate these colors and how to use them best.
Closets With Location-Specific Labels
One thing we all can never get enough of is clothes and all the accessories to go with them. While closets serve the purpose of simplifying storage, it can be extremely tricky to find what you're looking for when you have an excessive amount of clothes, shoes, and accessories. An excellent way to make this easier is by adding labels to every storage space of the closet.
For example, you can easily differentiate between a sock drawer, a tie drawer, the professional clothing section, and the activewear section when you've added easily comprehensible labels throughout the closet. This will also give you an effortlessly organized look.
Sleek and Modern, All-White Closet
If new colors, multiple items, and overcrowded features aren't your thing, you can always stick to your aesthetic by choosing an all-white palette for a clean and sleek closet look. This is an excellent idea for anyone looking for bright, breathable closet space. You can always amplify this look by adding subtle metal finishes here and there.
Upholstered Closet Walls for Maximum Color Coordination
Lastly, empty closet walls can make a closet seem a bit too dull. A recent trend being adopted by many homeowners is that of upholstered walls for closets. This is a fun idea for people who are fond of bright colors and textures. The right custom closet designers can help you learn how upholstered walls work and how they differ from regular wallpapers.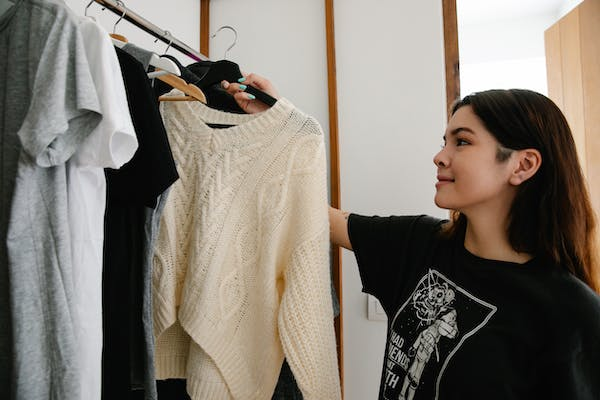 Undoubtedly, a house's closets are some of the most value-adding features that most homebuyers frequently look for. With so many closet design trends and ideas available for homeowners today, it's become significantly easier to give your closets and wardrobes a personal touch and take it to the next level of aesthetic appeal. If you're struggling to choose between the closet designs discussed above, you can always leave the task to professionals who specialize in offering premium interior design remodeling services. If you're looking for professional custom closet designers in Beverly Hills, feel free to connect with our professionals at MLL Custom.
Known for our years of experience and expertise working with a diverse group of homeowners, our professionals at MLL Custom continue to turn houses into breathtaking spaces with their work. Our interior design remodeling services in Beverly Hills are incredibly customer-centered to help you achieve your ideal home design. Thanks to our custom cabinet designers, bathroom vanity designers, and manufacturers of L-shaped and U-shaped sofas, you can now instantly have any space transformed for maximum value and aesthetic appeal. Check out our services here or contact us to learn more today!