Describing a home as tiny is describing it vaguely. Some studio apartments are much bigger than two-bedroom apartments, even though the reverse is often true. A home is small as long as it's a good long-term investment and helps you save on utilities.
As an interior design service, we appreciate that it's also a space you want to keep multi-purpose yet uncluttered. Here's how you can manage exactly that and a whole lot more.
Break the Mold
The best thing about tiny homes: there aren't many of them around. The decided lack of smaller homes for singles, couples, and families has made it possible for them to put their little twists on the décor. As a result, interior designs haven't stuck as well in small homes.
You can use this to your advantage by trying the following:
Installing a large window with a reading book or desktop and chair.
Splitting a single story into two by installing a staircase to create more space.
Eschewing glass doors for wooden ones to maintain visual continuity.
Installing multi-purpose fixtures, such as a sofa-cum-bed or staircase-cum-cabinet.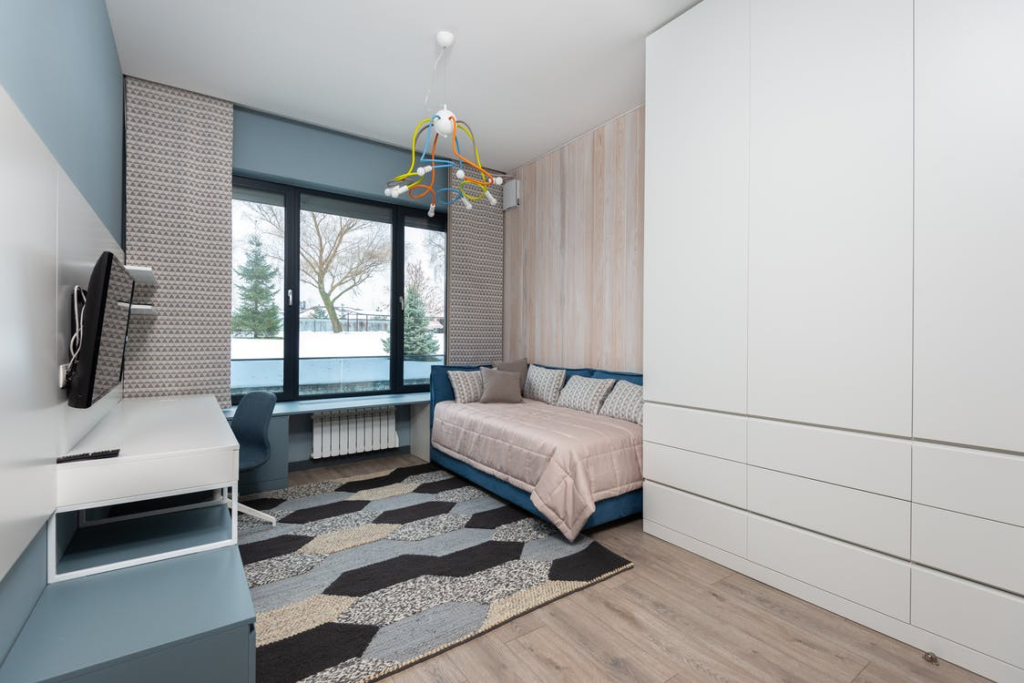 Bring the Nature Inside
If you're considering an open-plan concept for your small home, you might want to ensure the rug matches the drapes. In this case, this would mean ensuring the outdoors match the indoors. This is where nature comes into play.
You can connect with the vegetation right outside your home by bringing some of it inside through potted plants, wooden countertops, distressed furniture, and so on. You could also take it outside by matching outdoor furniture with indoor furniture. This would maintain a semblance of visual cohesiveness between the two spaces.
Create a Hybrid Space
Hybrid work models have all but replaced professional workspaces. If you've just moved into a small home and are still required to work from home, you could create a space that promotes focus by eliminating distractions.
Deck your workspace with calming hues to encourage creativity, productivity, and mental presence. Separate this area from the rest of your home with a folding screen but make up for the cramped feeling by installing a large window at your desk.
If you can't separate your workspace from the rest of your living space, try to work with what you have. For instance, you could invest in hideaway desks or use your bedroom as an office in the mornings. Alternatively, you could consider a small addition to completely separate your workspace from your place of rest and recreation.
Embrace the Madness
It's hard to avoid cluttering a small house, but would that really be such a bad thing? When did lived-in spaces become the faux pas? Minimalistic and Marie Kondo-inspired homes paint a pretty picture, but it's hard to give them personality.
Instead of looking like any other contemporary design, embrace the clutter that comes with the territory of a small house. Install cozy furniture made of polished wood and decorate your home with personal items and trinkets. Make it look lived-in to anyone who looks by installing glass doors and windows where you can.
Hire our home interior remodeling services in Beverly Hills to give your home the care and attention it deserves. Visit our interior designers or ask them to pop in for a chat and an assessment of your current home and suggest changes, such as custom bathroom vanities, sofas, cabinets, closets, and more.
Reach out to our custom representatives for interior design services in Beverly Hills.