Open-concept design is all about knocking down barriers to create open floor designs for the living, dining, and kitchen areas. Homeowners nowadays are remodeling their traditional floor designs to relish cooking, dining, and watching movies all in the same place.
Creating an open plan layout in a retro home might be difficult depending on the age and characteristics of the property. The furniture arrangement and artistic use of design components can help create a more open concept. So if you're looking for home interior remodeling services in Hollywood Hills, this post will help you plan how to make your house bigger with open floor plans.
Open Floor Plan Configurations
Open floor layouts generally suit shared spaces like living rooms, dining, and kitchen areas. Here are different combinations homeowners look for when designing an open floor plan:
Dining-cum-living room: A long open space or L-shaped dining cum living room is among the most famous designs. You can add more colors to separate the spaces.
Open floor for kitchen and dining: Since kitchen and dining are one of the most frequently used spaces, homeowners opt for an open kitchen with a kitchen island dividing the two spaces.
All-in-one living space: Kitchen, dining, and living areas coupled with vaulted ceilings offer not only an expansive and luxurious home interior but also create an all-around living space for the majority of your daily activities.
The Benefits of Open Floor Plans
Open floor plans can make even the tiniest place appear larger and brighter. You can transform your tiny living room and kitchen into a wide-open space and convert it into a light-filled environment. Here are some major benefits of an open floor plan:
Open floor plans offer improved movement. People may walk across space freely since there are no doors to open and close and no walls to obstruct traffic.
You can easily interact and communicate with everyone. It is easier to supervise children in the living room while you cook or clean in the kitchen. Placing a desk and computer against a wall or the back of the sofa expands the room's functionality.
Closed rooms obstruct light and give a choked look. Open floor plans benefit from natural light through windows. More natural light means less electricity consumption.
Open floor plans instantly increase your property's value.
You can easily play with different settings and layouts. It is simple to rearrange furnishings and accessories without barrier walls.
Kitchen islands or tables, which generally symbolize room dividers, become a focal point for food and beverages.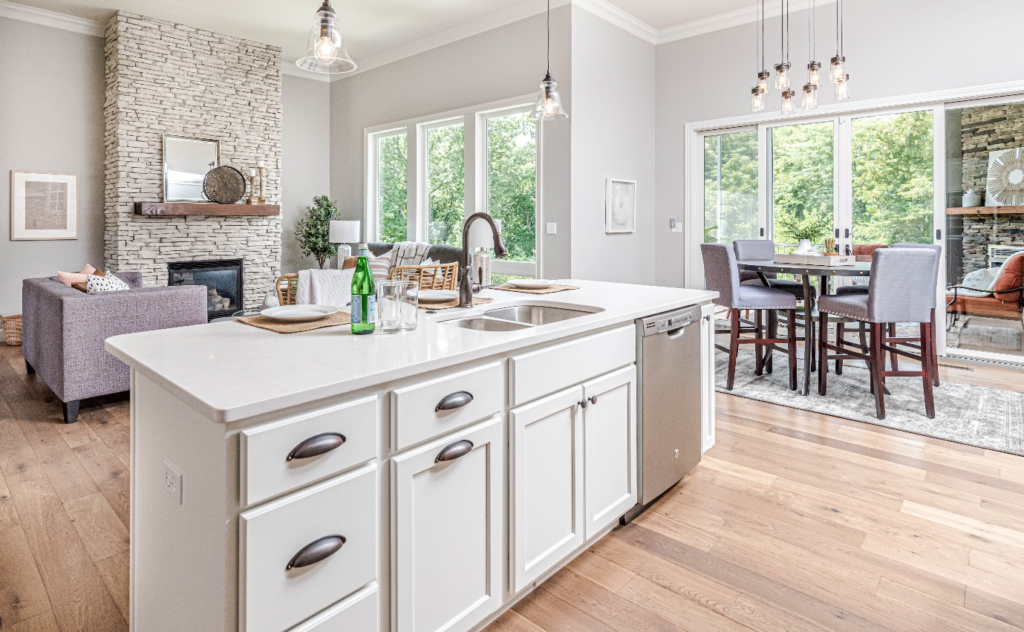 Ideas for Open Floor Plans
Consider an open floor plan, a blank artist's canvas on which you define and combine living areas in a way that suits your lifestyle. Here are some easy yet creative ideas for open floor plans:
Use Big and Comfy Rugs to Separate Spaces While Adding More Comfort
Area rugs are one of the most effective methods to divide an open floor plan and create discrete spaces. Ideally, big or long rugs give an illusion of more space, and it's particularly useful for living rooms.
Bring out the creative artist in you and try different layouts. Experiment with furniture arrangement with area rugs, but be smart. You don't need to place the rug under the rear legs of a sofa. Using one or two beautiful and large rug pieces instead of many small rugs is a smarter choice.
Preserve the Original Features of the House
Original characteristics provide character and value to your property. They are extremely valuable and should never be removed or replaced. Fireplaces, plaster moldings, windows, and doors are the most significant characteristics of the house, and keeping them in good condition adds elegance and class to your newly refurbished living space. Also, make sure your floor stays safe when you're knocking down a wall.
Use Furnishings and Lighting to Define Areas
Light is a critical feature, both in terms of natural illumination and fitting location. Lighting also aids in the definition of distinct areas of a room. A chandelier can be used as the decorative centrepiece of a dining area, or a large ceiling fan might be placed in the center of the living room.  Choose the lighting carefully whether your property is listed for sale or you just moved in. Consider which rooms are in your open plan design, their functions, and how frequently each area is utilized while planning a layout.
You can use furnishing to create distinct functional zones. For example, place a rug in the center of the living room to further define it.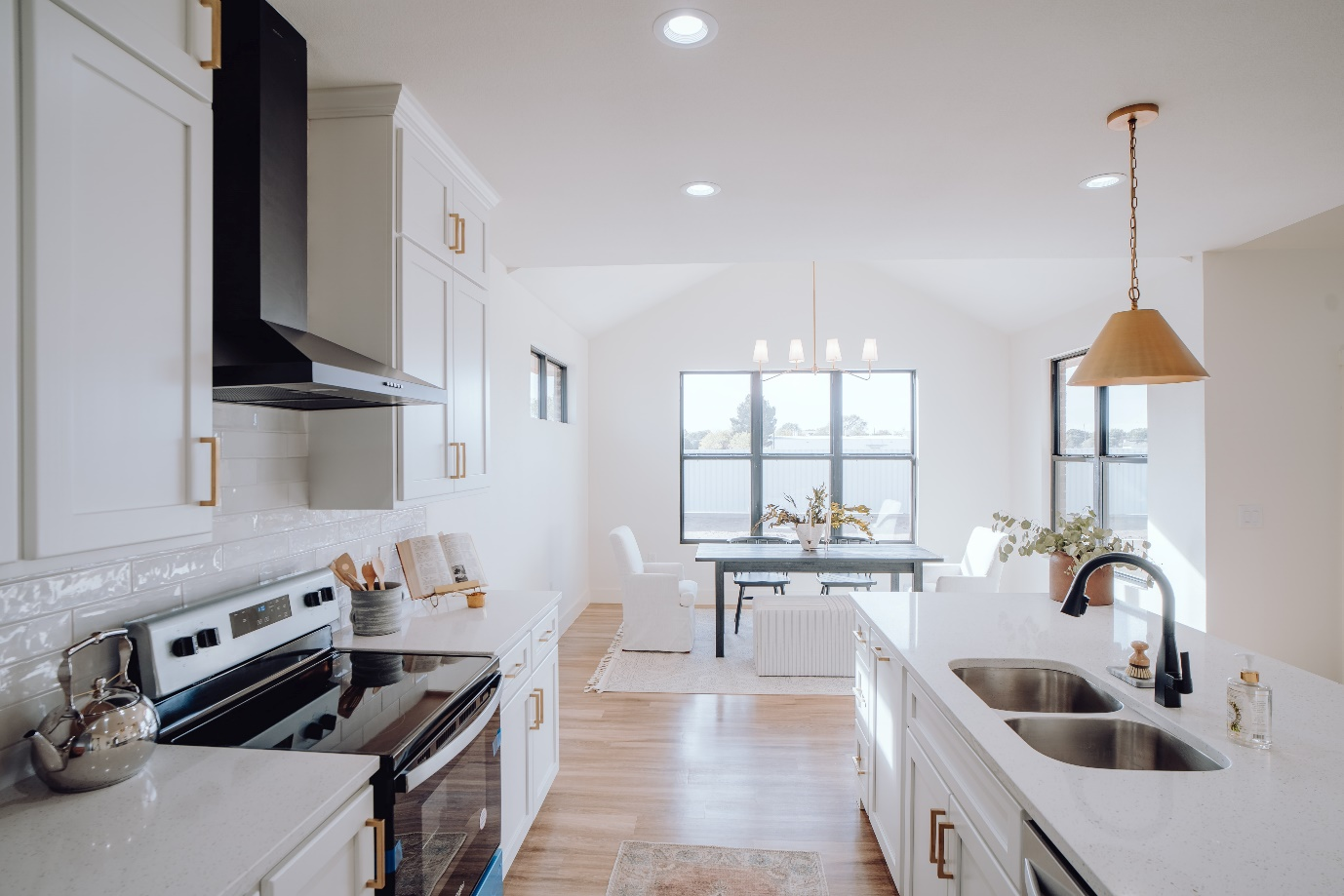 Create a Distinct Feature in Each Area
If you don't want your open space to seem like a giant open corridor stuffed with random stuff, give each place a distinguishing characteristic. Including a prominent design element in each section will not only serve to define each space but will also make your home glow. Lighting is an excellent option for creating a distinctive feature. Consider hanging a large chandelier in the living room and using eye-catching fittings to highlight each of the zones. You can also add showpiece furniture, fireplaces, bookshelves, and architectural aspects to add more drama to your living space and create a style statement.
Avoid Using Dividers – Keep the Space Open
The most beautiful and contemporary interior designs include empty spaces around each feature of the open floor living space. Be elegant yet smart in your arrangement; avoid clogging the visible areas with towering bookshelves or large furniture items or accessories. Also, make sure that windows and natural light are not impeded.
A minimalist open floor layout is a major hit. You might want to avoid letting too much clutter in the area and design your open floor with components that have both practical and aesthetic value. When designing your room, leave enough unoccupied space for individuals to walk freely between areas.
Spruce Up Your Home Interior in Style
Are you tired of your jam-packed separate rooms and want to revamp your home to add style to comfort? Our home interior remodeling services in Hollywood Hills, Manhattan Beach, Beverly Hills, and Calabasas are among the best in Malibu. Complement our interior design services in Malibu with our aesthetically appealing custom-made sofas, kitchen cabinets, custom cabinets, bathroom vanities, and cabinets.
Get in touch to request our services in Malibu, CA, today.