One of the most important spaces of a house is the living room. In fact, it's one place where you can be as creative as you like with your decorative choices and aesthetic preferences. Regardless of the theme you choose for your house's living room, it's crucial to pay significant attention to the seating options that you're going for when renovating the living room.
A popular seating choice that many homeowners are considering these days is that of L-shaped sofas because of their comfort, versatility, and ability to blend into any home design and architecture. Whether you're refurbishing a smaller room or a larger one, you can never go wrong with an L-shaped sofa, especially if you're placing it strategically. If you've made up your mind to incorporate an L-shaped sofa into your house's living room, here are a few ways to get started.
Placing Them Against the Window
The L-shaped sofa comes with two ends, making it a lot easier to create sectional spaces in a living room. If you have a spacious living room, you can always benefit from this sofa's shape and size to strategically delineate your living room or space within it. The easiest way to do so is by choosing one length of the sofa to be placed against the living room's window and the other length as a tiny wall to compartmentalize between the living and other areas.
For this design to work, you should first determine the space you're looking to separate. Whether it's the playing area for kids or a dining place, you can always place an L-shaped sofa against the window to make the best use of every space in your living room. However, one key rule to follow is to make the shorter length of the sofa face a specific mantelpiece. This could be a painting, an accent wall, a television, or an artistic figure.
This will allow you to seamlessly achieve a well-balanced living room design without the sofa's placement looking awkward. This living room design works perfectly for homeowners with open floor plans that require substantial functionality with their design elements. Remember to further accentuate the seating area by placing a subtle-toned carpet or area rug underneath the L-shaped sofa.
Highly Recommended: Belavio
To Redefine a Television Corner
If there's one thing that a classic American family loves to do in their living room, it's watching TV. From the Super Bowl to the latest season of The Bachelor, the living room is where families enjoy the most popular TV shows with bowls of snacks, fun, and laughter. Therefore, it only makes sense to use an L-shaped sofa for a living room where you want to enhance the television corner for a more enjoyable TV-watching experience.
This living room design is an excellent way to decorate a spacious home with open flooring. Start by placing the L-shaped sofa in a way that it seamlessly demarcates the TV corner by serving as a seating option for your family. With one end of the L-shaped sofa facing the TV screen, the other end can be placed against a counter, coffee table, or a bookshelf to place art pieces, phones, bowls of popcorn, drinks, and all your favorite snacks.
While using an L-shaped sofa to make your binge-watching dreams come true is an excellent idea, you can also use this space for intimate conversations and as a cozy seating option for guests. Homeowners looking to create more familial spaces within their houses can significantly benefit from such sofa placement.
Highly Recommended: Bullet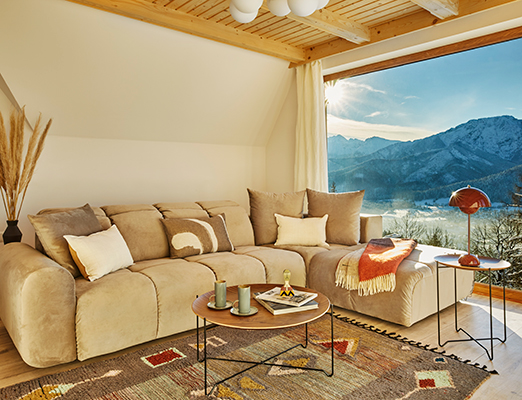 Backing One Side Against the Wall
Apart from many others, one of the biggest benefits of an L-shaped sofa is its ability to stand on its own and look amazing throughout the process. Unlike other sofas, L-shaped sofas don't necessarily need to be placed against a window, counter, shelf, or wall at all times for a space to look organized and well-designed. With its compact yet flawless design, you can always choose to leave either end of the L-shaped sofa on its own.
For instance, if you're not looking to go over the top with your living room design, you can start by using the longer length of the L-shaped sofa as a regular couch by placing it against the primary wall of your living room. On the other hand, you can let the smaller end rest on its own or be placed with small cushions and ottomans for additional enhancements and extra finishes.
Highly Recommended: Lungo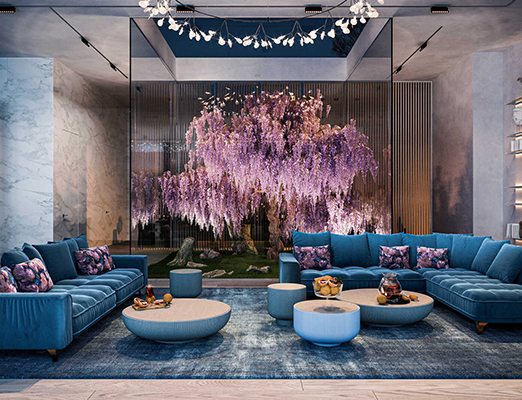 Creating Floor Seating for the Living Room
A highly popular living room design trend taking over interior design these days is that of floor seating options. It's popular due to its ability to create a cozy environment for guests. L-shaped sofas of shorter lengths work perfectly to effortlessly create floor seating for a living room.
However, remember to pair it up with the right carpet shades to make the entire look come together in the end.
Highly Recommended: Laurent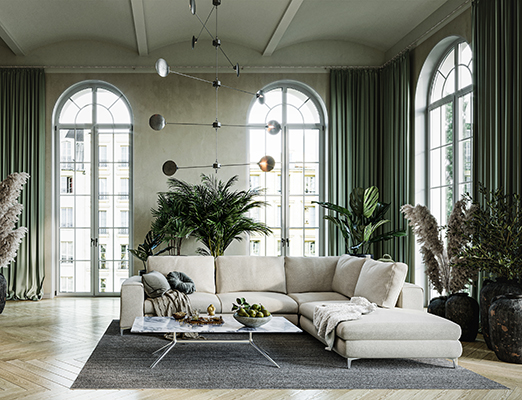 There's no doubt that L-shaped sofas are the perfect element to bring into a house when looking for minimalism, subtlety, and a modern home design. These sofas are an excellent choice for homeowners looking for home interior remodeling services to make their living rooms and other spaces most interactive, breathable, and prepared for entertaining guests and hosting parties. If the strategies discussed above impressed you, feel free to get started by checking out our custom sofas at MLL Custom Cabinetry & Furniture.
As a leading interior remodeling company, we specialize in helping homeowners and designers achieve their desired home designs with our interior design services, custom sofas, including L-shaped and U-shaped sofas, custom bathroom vanities, and more. Check out our products and services, or contact us to learn more today!